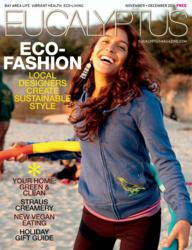 Los Gatos, CA (PRWEB) October 28, 2011
Eucalyptus magazine, the only lifestyle magazine that focuses exclusively on health, wellness and green living in the San Francisco Bay Area, has just released its November/December 2011 issue. Feature stories include pieces on eco-apparel, eco-cleaning for the holidays, and the annual Eucalyptus Gift Guide. The Grown Local department profiles the Straus Family Creamery. The Green Tips section gives suggestions on going green for the holidays. The new issue of Eucalyptus is now online at http://www.eucalyptusmagazine.com/NovDec11 and available from over 350 Bay Area merchants.
"From all of us at Eucalyptus magazine, we wish you a happy and healthy holiday season," said Michaela Marek, publisher and founder of Eucalyptus.
Clothing is a popular holiday gift, but the manufacturing process can have significant social and environmental costs. For people looking to support responsibly made eco-apparel, the issue features an article on businesses devoted combining style with sustainability. Amour Vert makes garments from "peace silk," which, unlike traditional silk manufacturing, does not kill silkworms. Athletes will want to check out Greenlight Apparel, which makes fair-trade-certified athletic clothes from recycled polyester and organic cotton, and Good Gear, which uses renewable, chemical-free bamboo to make its running shorts and tees. Other featured eco chic companies use beneficial fibers like hemp and organic cotton, and even create new garments out of Goodwill finds.
People expecting company for the holidays will want to make sure their homes are spic and span. But on top of all the other stress and headaches of the season, who has time to do a deep clean? Eucalyptus offers a handy guide to Bay Area eco-cleaning companies that can clean up a house without dirtying the environment. While traditional carpet cleaning involves heavy chemicals and a lot of water, several local companies offer greener alternatives, such as natural enzymes, lower amounts of water, or hypoallergenic cleansers with no VOCs. Featured house cleaning companies are responding to consumers' concerns about safety and environmental issues by using nothing but nontoxic, green-certified cleaning products; mapping out cleaning routes to minimize driving; and using carbon offsets for miles driven.
The holiday issue wouldn't be complete without the Eucalyptus Gift Guide, a collection of gifts everyone can feel good about giving. Kids will love a huggable plush sea otter holding a sea star, and the proceeds benefit the Monterey Bay Aquarium. For stunning and unique jewelry gifts, Third Eye Pinecones creates pendants from cross-sections of conifer pinecones, inlaid with gems, crystals, shells, and fossils. Smartphone cases by Pong Research not only protect phones when they're dropped, they also redirect cell phone radiation away from the head without interfering with signal levels.
"I love the annual gift guide; last year I took the recommendations and purchased several gifts for my friends. I am looking forward to it again," said reader Monika Cervena.
Elsewhere in the new issue, a profile of the Strauss Family Creamery in coastal Marin County, the first certified organic dairy in western US, proves that California does have some happy cows. These bovines are fed grass or organic vegetarian feed and raised without hormones or antibiotics. Some of their waste funneled into a methane digester that powers the farm, some is composted. The milk and cream is all organic and non-GMO certified.
The issue also offers Green Tips on the holiday season, including giving time instead of presents, wrapping gifts with materials already found in the house, and using seasonal spices and oils to scent the house. Green Tips also air on two radio stations: MIX 106.5 and 94.5 KBAY.
In honor of the November/December 2011 issue, Eucalyptus is offering a subscription sale: 50% off a one-year subscription. Subscribers can get 6 issues for only $ 12. More info at http://www.eucalyptusmagazine.com/subscribe.
For more information about the November/December issue of Eucalyptus, or for information about any of Eucalyptus magazine's products or services, call them at (408) 335-4983 or view them on the web at http://www.eucalyptusmagazine.com.
About Eucalyptus

Eucalyptus is the San Francisco Bay Area's resource for green and health-conscious lifestyles. Through the print publication, website and networking events, Eucalyptus shares knowledge and inspires readers to celebrate their health, support local businesses and surrounding communities, and protect the environment. Since its first publication in 2009, Eucalyptus has been well-received by the health-conscious and green living community and industry. Eucalyptus is the winner of the 2010 Apex Awards for Publication Excellence for green publications and the 2010 Gold MarCom Award for green publications. The magazine is available at over 350 locations in the Bay Area and online at http://www.eucalyptusmagazine.com.
###