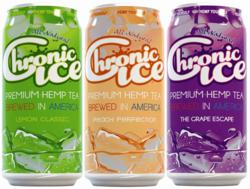 Los Angeles, CA (PRWEB) February 28, 2012
Chronic Ice, an all-natural hemp iced tea, wants to do more than just quench consumers' thirst for a refreshing beverage—it will soon quench their thirst for knowledge about hemp. The new cans, due to hit the market next month, feature a list of facts about the history and health benefits of the plant that will explode the all-too-common misperception that hemp is just for getting high.
"Many people are still under the mistaken impression that hemp is psychoactive because marijuana comes from the same plant. In fact, people around the world have used hemp as a food and a fiber for thousands of years," explained Jamal Weathers, a co-founder of Greenlight Beverages, the maker of Chronic Ice.
The new cans of Chronic Ice offer a few surprising facts about hemp:

    George Washington and Thomas Jefferson both grew hemp.
As the Straight Dope explains, the founding fathers grew hemp mostly for its industrial uses (such as paper, rope and clothing) and to replenish soil depleted by tobacco farming. Before becoming the first American president, Washington tried his hand at exporting hemp. Jefferson was so committed to promoting the farming of hemp that he refused to patent his invention of a "hemp brake" designed to remove the fibers from the stalks.

    Hemp improves circulation and boosts the immune system.
Hemp seed is considered a "superfood" by many because it is so packed with good nutrients. According to Naturally Splendid, hemp is rich in omega-6 and omega-3 essential fatty acids (EFAs), considered the "good fats" because they encourage good cardiac health. Hemp also contains high amounts of protein, particularly globulin and albumin, two globular proteins used by the immune system to produce antibodies to fight off infection.

    Hemp promotes rapid recovery from injury and diseases.
The 3:1 ratio of omega-6 to omega-3 EFAs found in hemp seeds is considered just about ideal for health, and the seeds also contain all 20 known amino acids. These nutritional benefits promote cellular repair, helping speed recovery, says Pure Healing Foods.

    Hemp lowers cholesterol and blood pressure.
The University of Maryland Medical Center explains that having the right balance of EFAs can help reduce cholesterol levels and lower blood pressure. While the average American diet contains an unhealthy ratio of 14 to 25 times more omega-6 than omega-3 EFAs, hemp seeds contain a ratio considered even better than the usually recommended 4:1.

    The first US flag was sewn out of hemp by Betsy Ross.
According to an article by one of Ross's descendants, Betsy Ross met George Washington at church and became his personal tailor. Washington approached her with a design for a flag, and she used durable hemp fabric to sew together the thirteen red and white stripes and thirteen stars of the first American flag.
"The new Chronic Ice cans help people rediscover the amazing benefits and history of hemp," said Weathers.
Chronic Ice is a health tea and the nation's first premium hemp beverage. It is made with organic sugar cane, whole-leaf green tea, black tea and hemp seed. Each serving of the antioxidant-rich, healthy tea is free of preservatives and high-fructose corn syrup.
The Lemon Classic flavor of Chronic Ice is now available in stores around California, Hawaii, Oregon, Washington State, Washington D.C. and Florida. Two new flavors of Chronic Ice hemp iced tea will be introduced next month: The Grape Escape and Peach Perfection. Greenlight Beverages will simultaneously launch its first soda, Chronic Ice Ginger Ale, made with real ginger extract, cane sugar and hemp seed powder.
For more information about hemp seed, Chronic Ice health tea or Greenlight Beverages, visit chronicicetea.com or call (888) 557-3332.
About Greenlight Beverages

Greenlight Beverages is a Los Angeles-based company focused on bringing healthful drinks to the alternative beverage market. Greenlight Beverages is proud to present Chronic Ice, the nation's first premium hemp beverage. Made with green and black teas, hemp seed powder, and pure cane sugar, Chronic Ice is the perfect alternative to the chemicals and corn syrup found in other drinks.
###