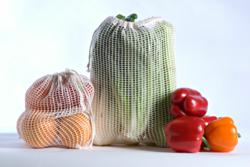 (PRWEB) September 01, 2011
An average of 100,000 plastic bags are handed out every minute, totaling billions of plastic bags consumed worldwide each year. Most single use plastic bags are employed for 20 minutes then thrown in the trash. Reusable cotton produce bags, such as Steward Bags, can be washed, used for numerous years, and composted. Owners of Steward Bags are proud to make their reusable produce bags available to school and community "green fundraising".
Since its introduction in the 1950s, the plastic bag has become a story of innovation gone wrong. The grocery and retail industries adopted the plastic bag due to its light-weight, high-load capacity and cheap price. Few anticipated that its popularity would create serious global environmental concerns.
Plastic bags dumped in the landfill can take up to 1000 years to breakdown. In the process they separate into small toxic particles that contaminate soil and water. In many countries plastic bags have become a primary source of litter. In South Africa for example, plastic litter is so omnipresent the plastic bag is referred to as the national flower (National Geographic News).
The world wide use of the plastic bags has led to an increase of plastic waste floating in the oceans. The "Garbage Patch " or "Trash Vortex" floating in the North Pacific Ocean continues to grow since its discovery by the National Oceanic and Atmospheric Administration in 1988. Current estimates of its size range from 700,000 square kilometers to more than 15,000,000 square kilometers (Wikipedia).
Plastic bags often strangle, choke or starve marine life. Floating bags move through the water, taking on a lifelike appearance. Swallowed plastic is not digested. It causes obstructions, stops food intake, and results in starvation. When marine animals die and their bodies decompose, any plastic they have ingested is released back into the water (National Geographic News).
People are becoming more aware of the environmental threats caused by plastic bag waste and are inspired to move towards effective solutions. Government organizations, environmental groups, scientists and new eco-businesses are taking steps to address this world wide problem.
Organized Government Initiatives

Plastic bags have been banned or restricted in more than 25% of the world. Countries such as Kenya, Uganda, China, India have passed legislation restricting the thickness of plastic bags manufactured. Some countries that have banned plastic bags all together are Belgium, Bangladesh, Rwanda, Tanzania, Ireland and Italy. Some bans have been initiated at municipals level in countries such as Canada and USA (National Geographic News).
Taxes or levies have also been introduced by the government in many countries such as Israel, Hong Kong, Germany and Canada to discourage the overuse of plastic bags. The levies collected are used to pay for recycling facilities and clean up of plastic bag litter.
Recycling/Reusing/ Biodegradable Plastics

Recent studies suggest that approximately 20% of plastic bags are reused for garbage and pet waste. After "reuse" they end up in the landfill. Bag recycling has also increased in the past decade. However, most municipal recycling facilities are not equipped to recycle plastic bags and the process takes a fair amount of energy (Wikipedia).
Biodegradable plastic such as bio-plastics and petroleum-based plastics have become more mainstream. Regrettably, they require a significant amount energy to produce and a specific environment for biodegradation. Carbon and methane are released into the atmosphere as greenhouse gases when oil based materials degrade. Starch based bio-plastics, may be almost carbon neutral, but they can have a damaging effect on soil, water usage and quality (Wikipedia).
Alternative Products

One of the simplest and most effective solutions introduced is the reusable grocery bag. Reusable bags are now widely available and used by grocery shoppers. Many of the original recycled plastic designs are difficult to wash and as a result can harbor growing bacteria. Washable reusable bags made out of natural biodegradable cloth fibers such as organic cotton, jute and hemp have recently been introduced.
Two teachers from Canada recognized the need for reusable bags to replace the flimsy plastic bags that hold loose fruits and vegetables. They created a washable bag made of organic cotton netting, certified by the Global Organic Textile Standards (GOTS). After 3 to 4 years of use, this reusable produce bag can be composted. Steward Bags, produce bags are now available through the school and community group green fundraising "Fundraising with No Footprint" program.
"Our goal is to get one million families world wide to use at least 5 reusable produce bags weekly, said co-owner Greg Bailey. This will eliminate 260 million plastic bags in one year alone. Imagine the potential reduction in plastic waste? The possibilities are infinite!." "The more we become aware of our ability to do small daily "acts of green", the more we understand that as a group we can have a larger collective impact on the critical environmental issues, adds Josée Lemieux-Bailey. "
About Steward Bags:

Steward was founded in 2009 by Josée Lemieux-Bailey and Greg Bailey. They were awarded "Champions Combating Climate Change" by the Carbon Reduction Initiative in 2010 for their dedication and commitment in promoting sustainability and reducing green house gas emissions. They also won the Business Excellence Entrepreneur of the Year Award in 2010 given by the local Chamber of Commerce. Steward Bags donates 5% of its annual profits to environmental projects and stewardship bursaries. To date approximately 35,000 Steward Bag reusable produce bags are in circulation. When used weekly, for one year, approximately 1.8 million plastic bags are kept out of the landfill. Steward Bags are available on line and at numerous stores across Canada including the Farm Boy Grocery Chain in Eastern Ontario.
# # #